Win My Award
The Jedi Council Banner Exchange

So, do you think you have what it takes to win an award? Well if your site meets the following qualifications, you might have yourself a new award for your site.

1. Your site must be a Star Wars site. All other sites need not apply, because your site will not win if it isn't Star Wars.
2. Your site should be original. I don't want to see a site that has been copied off of another site. As long as you made the site and the design of site is your own, you should be fine in this department.
3. The bigger the better. A one page site may not win my award, but you can still apply and you might win. It is worth a try.

If your site meets all of those qualifications then fill out the form below and give me at least a week to look over your site. If I like your site and it meets the qualifications, then I will E-Mail you with the image for the site award. If you do not recieve and E-Mail after a week or two weeks, go ahead and submit your site again, my mail box may have been full when you submited your site to me.

Thank you and good luck.

---
This is what the award will look like, but it won't have SAMPLE written across it and the award you will recieve will look much better than this one. The word SAMPLE sort of makes the award look bad compared to the actual award.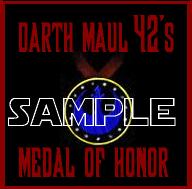 ---